Since we moved into our new home last summer, Hubby and I have been sleeping on a mattress on the floor. That's right, just like college kids. What happened was that when we moved in, my mother-in-law and step-father-in-law were visiting from Australia and we wanted to be sure they had a comfortable bed. So we moved our existing bed right into the guest room of our new home and it's been there ever since.
That bed was actually created by hand in a low-ceiling basement by Hubby in 1995. We had moved in together (yes, we lived in sin before we got married – shocking!) and were sleeping on a futon on the floor. So for my birthday, he had been secretly building a bed in the basement of the apartment building.
It was a mighty fine bed. And it's still a mighty fine bed.
But now, we have our second master bed. This one, Hubby has just recently finished making. It's a design based on everything I've pointed out in catalogues and stores that I like. Things like a high, large headboard and wood that extends right down to the floor so you can't see under the bed (once a lazy housewife, always a lazy housewife!). The wood itself is called wenge, which is a very rich, dark brown wood with nearly black grains. We actually bought the material to make both the dining room table and the master bed at the same time, which was before we had even moved into the new house! Here's an up-close sample of the wenge grain: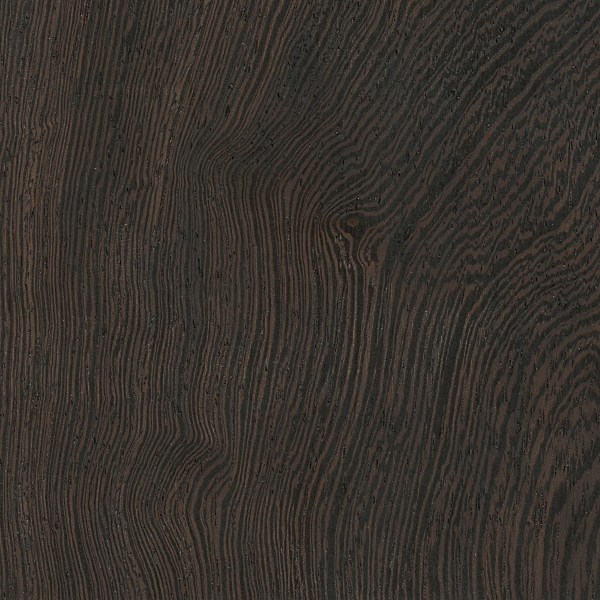 So yes, we're excited to furnish our house with lovely things. But the process has been slow (as I know so many of you can also relate to!). However, here is the end result! (Note how although we're off the floor now, we still have yet to have any other furniture in this room, nor drapery … baby steps, baby steps!)
If that duvet cover looks familiar to any of you, then you're no doubt a Dwell Studio fan like I am. The duvet and pillow covers have been sitting in my closet for a good 10 months or so patiently waiting until their time. I had treated myself to them shortly after moving in but didn't want to use them until the new bed was made. As the countdown was getting closer to the bed being finished, I bought the sheets from Homesense on a Mother's Day excursion with a girlfriend. They're Egyptian cotton and some kind of crazy thread count like 1,000 — I kid you not! Soooooo nice! (And at least a third less the price than Dwell.)
Although my linens are not ironed (please! I can't go there!) like theirs, I was delighted to see that Dwell had chosen this same duvet set to use in their new flagship store in SoHo, New York City. Naturally, being the good little blogger that I am, I took a picture on my phone. I like the pop of yellow they used with the striped pillow, don't you?
So that's the story of our master bed. Hubby is already dreading the inevitable suggestions I have for changing the paint colour in the master bedroom to match the duvet set! I'll add on to this tale once the bedside tables are complete (I think they're going to be gorgeous!), and then I'll need your help deciding on lightening, drapery and other bits of furniture!
In every design show on earth, they talk of how the master bedroom should be a relaxing retreat for parents. But I wonder — does this happen in reality? What's your master bedroom like? Does it include toys under foot or a lock on the door?
Edited to add: The side tables for the bed are done now! You can check them out on this post.