Back in October for Month of Me, I celebrated my 40th by hitching a ride with Kerry to Brooklyn. We didn't actually know each other, more than a few emails here and there, but that didn't stop us! We spent a great few days wandering together and then parted ways when my mom arrived into the Big Apple so we could jointly celebrate our birthdays.
While in New York, I only bought a handful of things. But what I bought seems to indicate that I am not a particularly practical girl (see Part 1 for evidence.) This is Part 2. 
Hubby called out, "I think she's here!" I skidded over to the front window of the house and sure enough, there was a blonde woman sitting in a car idling out front. I popped my Birks on and went outside. I could see she was reading on her e-reader and I knocked on the window and waved. She explained that the drive to my place had taken less time than she'd anticipated. I insisted she come inside and have a coffee or something. This was Kerry, and we were going to drive to Brooklyn from Ottawa that day. Woot! Woot! I was so excited.
I ran about the house frantically stuffing things into my bag and then started kissing the family goodbye. The door to the front hall got opened and closed before Kerry could say, "Don't forget a jacket." I've been needing a new mid-season jacket for AGES. The one I have is fine enough. But it doesn't cover the butt and isn't warm at all. So I just shrugged happily and said, "I'll buy one there!"
Only now that I've spent some time with Kerry do I realize how crazy she must have found me that morning. She is a very organized person. It would not surprise me to find out that she'd had her bag packed and ready to go weeks before hand. Now that I am no longer a virtual stranger, I have no doubt that if she was in that position again, she'd say with a straight face: "Take your jacket. Don't be a dumb ass." But she was standing in my front entrance with a bunch of strangers, so she simply bit her tongue and we went on our merry way.
Needless to say, it was not long after we'd arrived in Brooklyn that she lent me an extra jacket that she had with her. She didn't seem in any rush to get her jacket back from me, so we didn't rush out to go clothes shopping. Instead, we spent our time walking the streets, visiting museums, and browsing book stores.
But on the way from one place to another, we happened to walk by a shop window that had a fabulous jacket hanging in the front window. We decided to go inside and check out the price. It was $330. I didn't even want to try it on at that price. But Kerry insisted. It was a great fit and a great colour. Kerry also inspected it for its practical features like waterproofing and whatnot and was suitably impressed. She then began some kind of complex mathematical calculation that involved estimating how many times I would wear it, and for how many years, and what that equated to in a per/wear cost. My eyes were starting to glaze over and I decided that I needed a coffee in order to decide if I would buy it or not.
We had the coffee. I didn't go back and buy the jacket.
I felt quite pleased with myself about it, actually. I am so disciplined! I am so frugal! Hubby will be so impressed!
Fast forward a few days and I was now staying with my mom in New York City. I really wanted to show her around SoHo, with its funky shops and cafes. It was her first time in NY, so I thought it was a "must do." While there, we popped into a favourite shoe store of mine: Camper. I'd never actually bought any shoes there yet, but on practically every visit to New York, I've gone to visit Camper. The shoes are uniquely styled and are reputed to be very comfortable too. So off Mom and went!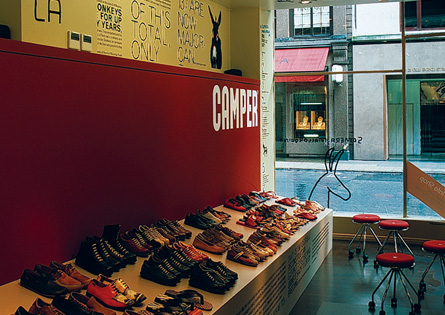 We oogled. We aahhhed. I grew particularly fond of these black booties: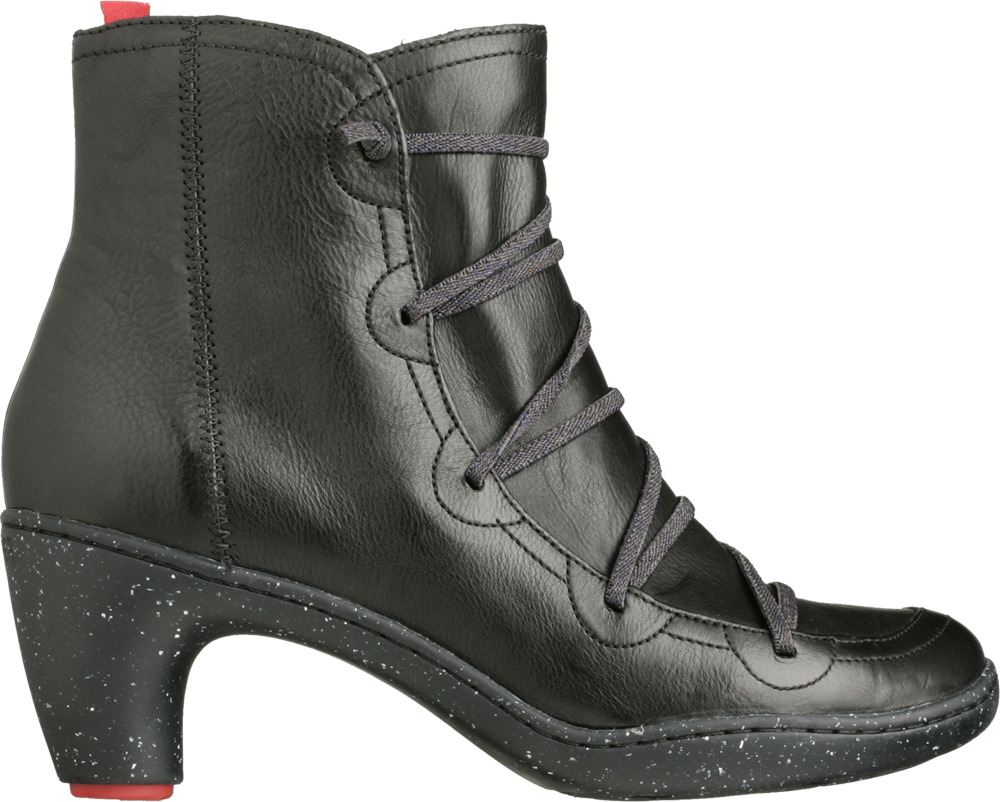 They were black. Black is practical!
But they were priced at $205.00. It seemed a bit steep, especially considering I didn't actually need any black booties (I already have two pairs).
Both Mom and I walked out empty handed. I was unsure I wanted to spend the money, and she was unsure that they would be comfortable. Both highly practical considerations, right? Right.
So we went and had a cafe lunch at a sweet, little Italian place. We were seated at the front windows, which were actually glass doors that could be folded out in nice weather. The weather was not only nice — it was wonderful! We sat and watched all the shoppers stroll by while we ate. When we were done, Mom thought we should go back to Camper again. Who was I to disagree? Besides, it was her birthday, so I needed to indulge her. Right? Right.
This time, we both tried on a few pairs. And both of us left with one pair each. You're thinking I was impractical and bought those steeply priced black booties, aren't you?
No, no siree! Instead, I bought a pair of steeply priced blue swede boots. Everyone needs a pair of bright blue boots, right? They're practically a wardrobe staple, really.
Warm, waterproof jackets are so overrated.
P.S. Both Mom and I are finding our Camper shoes to be sooo comfy! (She bought these ones.) Very happy with our purchases all these months later.
P.P.S. I just found out via Twitter that Coffee with Julie is shortlisted in the Canadian Weblog Awards! So, so, so honoured to be in such great company!