Photo Credit: Kris Krug (Creative Commons)
I have a confession to make: I've never seen an NHL game live. I always figured that if I said this out loud someone might revoke my Canadian citizenship, but you won't tell anyone will you?
Sure, I've been to events at the arena where the Sens play (the most recent one that comes to mind is Oprah). But I guess I'm just cheap when it comes to watching live sports. It is seriously expensive to take a kid out to see a hockey game in this town — let alone a whole family of four! For instance, a Level 100 ticket to see the Ottawa Senators play against the Minnesota Wilds is priced at $123.61. So, let's see … for one night out with my husband and the two kids, I'm looking at almost $500 dollars?
Don't get me wrong — I know my family and I would have a great time and wonderful memories would be made. But, you know, it makes it hard to commit.
Do you feel the same way? Well, then read on, because I have GOOD news for you! Remember those 100-level tickets I just told you about? Well, you can win them!
Check out this post below written by my friend Sandy over at Canadian House Blog ….

Nothing used to get me more irritated then when I would attend a live hockey game (or other sporting event) only to see dozens of seats sitting empty in some of the most desirable sections.  Where were those ticket options when I was looking to purchase my tickets?  Why was I now stuck up near the rafters of the hockey arena, when I could have been down close to the boards? The answer?  Those seats were already purchased by seasons ticket holders who just didn't show up for that's night game, for whatever the reason. What a waste of a prime seat!  Thanks to Broker4Tickets, those prime unused seats can now be filled! Not only does Broker4Tickets keep seasons ticket holders and Suite owners happy by putting some cash back into their pockets, Broker4Tickets makes fans happy by being able to offer up some of those pretty fantastic seats to a must-see hockey game.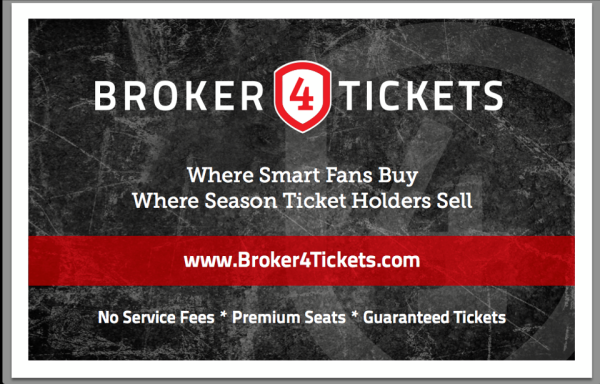 Broker4Tickets is THE place to buy some of the best tickets available to see the Ottawa Senators in action! Season ticket holders, and Suite owners, who can't attend a game or fill their suite, can sell their tickets to Broker4Tickets, who then turn around and offer them to you at a fair price.  What a concept! A service that keeps sports fans happy from start to finish!  No Service Fees.  Premium Seats.  Guaranteed Tickets.
When you purchase tickets from Broker4Tickets, they email your tickets right to your inbox, meaning that you can purchase right up until game time, and not have to worry about picking up tickets.  Broker4Tickets keeps things easy! If you would rather have hard copies of your tickets, no worries, your hard copy tickets can be available for pick up if requested.
So get off that couch, sports fans, and check out Broker4Tickets.  Show some support for your Ottawa Senators, and get yourselves to a live game at Canadian Tire Centre!
I have some terrific news!!  Canadian Blog House is teaming up with some of my favourite fellow Canadian Bloggers to bring you a fantastic giveaway sponsored by the great folks at Broker4Tickets.  My NBL Team (National Blogger Lineup) includes the fabulous Coffee With Julie, the amazing Ottawa Mommy Club, the wonderful Journeys Of The Zoo, the awesome Shannon's View From Here, the fantastic Tales Of Mommyhood ,  AND the only man on the team, the irreplaceable Puzzling Posts Dad.
One of our lucky readers can 

WIN a 4 pack of Level 100 tickets

to the Ottawa Senators vs. Minnesota Wild game at the Canadian Tire Centre on November 20, 2013!!  Just click below to enter!