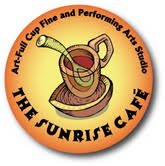 Just outside of Smuggler's Notch, a bright yellow building beckons you in for a coffee. Naturally, we accepted!
We walked in the door and entered into a hallway. To our right, we could peer into a window and see a yoga class taking place in a lovely looking studio. To our left, we could see a homey cafe to grab some brunch. As we opened the door, three children's faces glanced up at us. All three faces then returned back to the laptop they were huddled around. I think the cafe's free WiFi was treating them to a kids' movie.
A man, whom I assume was the children's father, welcomes us inside. We shed our coats and take in the atmosphere. There's artwork on the walls, jewelry and pottery on display, and some jazz music playing. Nice.
We order a couple of lattes.
Then, we checked out the menu. There's an interesting selection of sweet and savory crepes, paninis, and burritos.
For the kids, we decide on simple basic cheese quesadillas, which went over well. I opt for a crepe called the "Mamma Mia," which is a crepe wrapped around tomato, spinach, and mozzarella cheese ($6.75). It was a bit bland for my taste. However, Hubby's selection, a burriotos called "The Firefly," was just delish. It was made with field roast chipolte sausage, sauteed peppers and onions, salsa, hot peppers, sour cream, and cheddar ($7.50).
The man serving us was babysitter, coffee barrista, cook, and dishwasher, I assume. Like much of the area around here, there is a distinctly hippy vibe, which I enjoyed because it was also mellow and relaxing. No rush-rush-rush, and nothing overdone with artifice. And a "back to the earth" sentimentality that also extended to the cafe's food — fresh, organic ingredients; locally roasted espresso; and a mud oven out the back for the nicer weather.
We really enjoyed our visit to this cool cafe. If you're in the neighbourhood, it's definitely worth stopping in for a visit. Directions and a full menu available on The Sunrise Cafe website.